The Lady Lisa Fountain in Historic Downtown Lancaster – Spring 2015
Welcome to beautiful, downtown Lancaster, Ohio! I came across this picture last year (2015) and saved it to my phone and then promptly forgot all about it. It showed up on TimeHop today and I thought it would be a perfect opportunity to talk about this unique piece of Lancaster history!
This fountain stands in one of the original squares of Downtown Lancaster on the corner of Broad and Main Streets. Across the street is the City of Lancaster Municipal Building, a gazebo and a memorial park. The fountain itself is surrounded by a lovely walkway and beautiful landscaping. There are also several benches where you can see people sitting with their children and grandchildren as well as people just sitting and reading a book on a warm, sunny day. Recently a water fountain was added so that people could get a sip of water on a hot summer afternoon.
The fountain was designed and built by the J.W. Fiske Company in New York and was installed in 1890. The 24 foot tall fountain features a 30 foot diameter pool of water with two additional basins being 10 feet and seven feet in diameter, respectively. At the top is a seven and half foot tall female figure appearing to pour a water jug down the fountain. The Lady Lisa Fountain has been in constant operation since the 1890's.
Currently, the City of Lancaster Parks and Recreation Department manages the fountain and the other downtown public spaces including the park area around the fountain, the gazebo and the memorial park. There was a restoration effort done on the fountain in 1989 and was funded by a combination of private donations, grants, and city monies.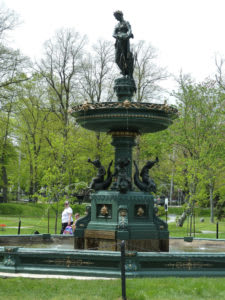 The Jubilee Fountain at The Public Gardens in Halifax, Nova Scotia.
Fun fact – there is a fountain in Halifax, Nova Scotia that resembles Lancaster's Lady Lisa Fountain. It was designed and built by the same company – J.W. Fiske Company New York.
Even at 126 years of age, the Lady Lisa Fountain in Downtown Lancaster's Zane Trace Square is a spectacle to see and continues to greet visitors to Downtown Lancaster as it did in 1890.
Source: http://oosi.sculpturecenter.org/items/show/774